Export Database With Multiple Choices
Backup files are considered to create for keeping away tensions about to deal with unforeseen situations. The same concept also adopted by SQL users. Most of SQL Server followers have their own way to get replicas of original SQL databases. Moreover, SQL backup files are also prone to be infected from accidental or seen concerns.
Including a regular practice to backup, SQL users need to get ready for backup recovery because, bad time does not offer any alter. Recovery as well as facility to export database when combined within single back then, such solutions are adoptable to sort out SQL backup revival issues.
Saving Database In Different File Format
After selection of files, once scanning and recovery of the database gets ended then, it is desired to export data file into such a file format that can be used within same edition of MS SQL Server along with flexibility to open the file into other versions of SQL Server.
With our solution there are two options for data export: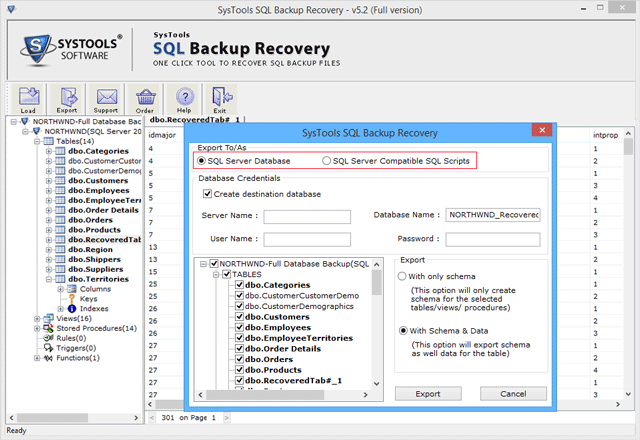 SQL Server Databases: Once selected files are recovered without altering basic attributes then, there will be need to export database. If option to export database into SQL Server is available then, SQL users can gain accessibility of database into live SQL Server. This option within our tool is also added with same purpose.
SQL Server Compatible Scripts: At the other end when backup file gets repaired and it is desired to export it into other edition of SQL Server then, option like SQL Server Compatible script will work. With such flexibility, users can add up backup after recovery into any version of SQL Server regardless of having Live SQL Server.