Supports MDF & LDF Files For Backup Recovery
MS SQL Server is one of the highly opted database management systems with which users can handle distinct projects whether professional or non-professional. Data loss of such a beneficial and important database is not affordable and acceptable. Due to safety concern of database, many users are in practice to take back-up of entire database or desired tables.
Backup files consist of MDF and LDF data along with other details in from of replicas. Oftentimes when backup files fail to open or access then it is desired to get a commercial solution for instant recovery of backed up LDF and MDF data.
Importance Of Backed Up LDF And MDF File
Within SQL Server distinct file formats are available to store different kind of information. MDF files are proposed to store basic or main database of SQL that is also called as master database. At the other end, LDF file format is to manage entire details about transactions and processes running on SQL Server. During backup, both kind of database files are considered to be backed up as these documents have own importance.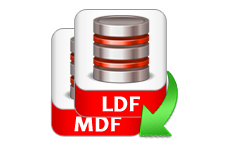 In case backup recovery is concern of users then, there is a need of program with which entire backup from LDF and MDF files will be retrieved. Our software supports MDF & LDF database for backup database revival. With the ease of getting back entire information about transactions and original databases, it will be easy to go back to previous operations performing over SQL Server.