Passwords Unknown & Empty Accepted
In SQL Server passwords are defined as Windows authentication and SQL Server authentication, most of users protect their personal and commercial databases because setting empty password is not acceptable when database is crucial and confidential.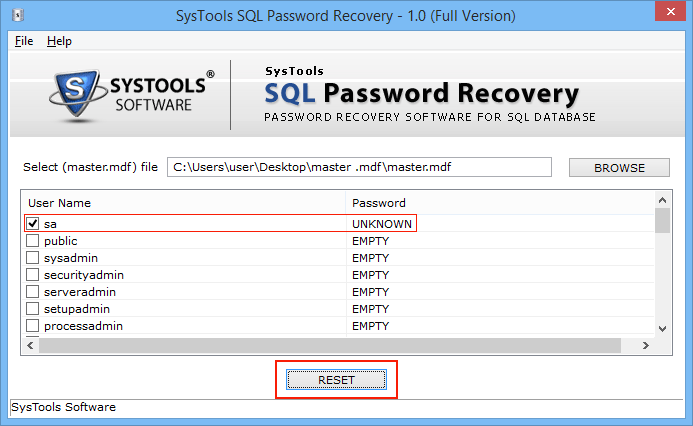 Keeping blank or not setting a password into database may put your work at halt if any unauthorized visitor will interrupt by performing access that is not permitted.
What Exactly Is Password Reset?
The need of changing or resetting password may come up to user when a SQL file is downloaded or shared along with password protection that cannot be unlocked as password is unknown to the user. To handle such circumstances it is suggested to reset password for proceeding the work as afterwards the password can again implemented.
When password is unknown one cannot eliminate it by own. To deal with such concern commercial help is required. With read-only permission, professionally designed application dedicated to eradicate passwords, users do not need to invest their manual efforts for safeguarding database and internal elements within SQL files. Simply password resetting is changing the password for which Unknown & Empty accepted:
Unknown Password: When data file is selected under our product and the file is password protected then in place of password user will see Unknown status that can further removed.
Empty Password: Empty password will be shown by tool, when selected file was not actually password protected and for this file users can set the password by own.
Instant Help For Resetting Password
Instead of assisting to reset unknown and empty passwords there are many things that users can get with our software. Features and flexibilities users can find out with over application are:
Not destructing internal attributes of SQL elements
Not any need to apply or remove password from all the databases
Not any changes into basic properties of databases